Featured in the MACUCC Jan 9th Spotlight Email!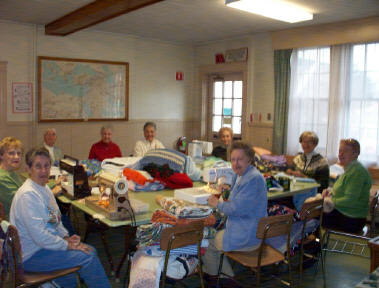 Good Grief, Linus!
By Ms. Patricia Bukoski and Rev. Mark Seifried
The project started as a way for Carole Murray to keep herself busy and to ease the pain of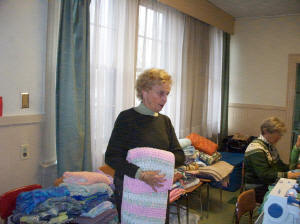 grief. She made a few blankets in those first few months following her son's death. Then she heard about Project Linus, a nationwide non-profit organization that provides blankets of comfort for children in various stages of need – from neo-natal intensive care to day surgery, from arduous cancer battles to respite from life on the streets in homeless shelters. Carole asked her friends from First Congregational Church, UCC in Auburn and other churches in the area if they would like to use some of their spare time to give hope and healing to children in need throughout Central Massachusetts.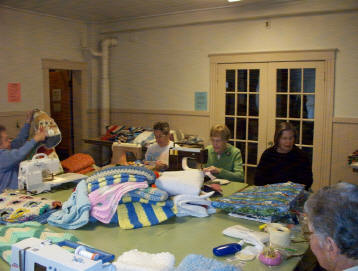 Fast forward eleven years and the Worcester Area Chapter of Project Linus, whose headquarters are at First Congregational Church, UCC in Auburn, has made more than 21,500 blankets with the help of hundreds of volunteers. Blankets have been sewn, knitted and crocheted. They are detailed in every conceivable way. Their label identifies them as Project Linus Blankets.
The security these blankets give and the impact they have made on the lives of countless children throughout the United States first began as an act of kindness by the founder of Project Linus, Karen Loucks. On Christmas Eve, in 1995, an article titled "Joy to the World" appeared in Parade Magazine. It was written by Pulitzer Prize winning photo-journalist Eddie Adams. Part of the article featured a petite, downy haired child. She had been going through intensive chemotherapy and stated that her security blanket helped her get through the treatments. After reading the article, Karen Loucks decided to provide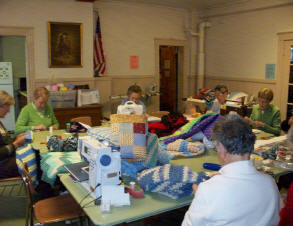 homemade blankets to Denver's Rocky Mountain Children's Cancer Center. Project Linus became a reality. Today there are nine chapters around Massachusetts and four hundred nationwide.
Carole and the gang at First Congregational in Auburn have done a great job evangelizing. They now have satellite units throughout the region – in Senior Centers and retirement communities, in other churches, schools; some scout troops are even involved. The finished blankets are collected and brought to the church for labeling and distribution. Although there are probably more than 100 volunteers presently making blankets, a dozen or so women gather each Tuesday at First Congregational Church in Auburn to bless them before adoption by a deserving child.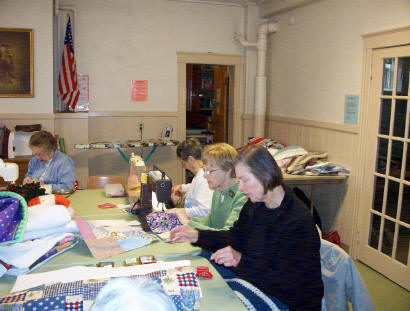 Check out what one mother recently wrote to Carole: "I wanted to take a moment to thank Project Linus. My 5-year-old son was born with a cleft palate and has had many operations throughout his young life. Now at 5-years-old he was in again and this time very anxious, upset and scared – the older he gets the more he understands and the worse it gets. [As he was checked in for a recent surgery], huge tears streamed down his cheeks. Our nurse presented him with a blanket that was donated by you. It was only day surgery and we brought him home. I watched him rest on the couch with his new blanket. He now is in bed and is very attached to his blanket – wrapped securely around him. This blanket was the only bright spot in his day and the only thing he asked was, 'Somebody made this blanket for me? Why?' My answer was simple, 'Because someone thought you were special.' As a mother, all I can say is 'THANK YOU.' I appreciate your efforts to reach out to these children that have been through so much! To see his eyes brighten up is more than I can ask for."
The wonderful thing about Project Linus at First Congregational Church is that most of the material is donated by a woman who makes hospital uniforms in the area and heard about this ministry …although several of the volunteers admitted to regular shopping binges for material "when fabric stores are practically giving the stuff away and we can't pass it up." Since all the blanket recipients are in the area, local volunteers load them into their vehicles and deliver them to offices, homes, hospitals, etc The congregation has allocated a room in the back of the church which has its own entrance, ample storage, and a kitchenette. (What kind of ministry would it be without coffee and snacks?)
When asked why they put so much effort into this ministry, volunteers had many reasons. Quite a few are widowed and the handiwork helps them pray and work through their grief in a supportive and loving environment. One woman said she just likes to keep busy. Most shared that they love to know that their craft brings comfort and healing to children and families in desperate times. And another said, "As long as my hands can move and my eyes can see, I'll put them to work for the Lord." They all seem to agree that it's as good for the volunteers as it is for the babies and children in need. These blankets are sewn and given with unconditional love, talent, dedication and resourcefulness – all gifts of the Holy Spirit that bring good news to God's people.
Last Edited 04/03/2010