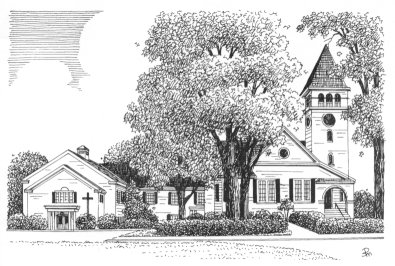 Welcome to the website of First Congregational Church in Auburn, United Church of Christ. Although we are part of the largest Protestant denomination in Massachusetts, we are a spiritual community that is grass roots in its organization. The people who are members of the local church are the leaders and decision makers. Our worship and programs come from the depths of our common experiences and desires for a more just, gentle, and loving world.
Here, children are not the "future of the church," but rather children are the church. We follow "Safe Church" practices which means that all staff and volunteers have been screened for criminal backgrounds and that we always have at least two adults in the room with children to ensure their safety. We offer Sunday School lessons for children along with mission and fellowship opportunities for older youth. Children and youth frequently participate in worship and lead our worship services several times a year.
We are a community with big, open hearts. We are also a community that invites you to think critically. People come first here. We have fresh ways of examining the ancient scripture texts of our faith. We seek to discern the purpose of God, celebrate the presence of Christ, and call upon the power of the Holy Spirit as we gather in community and ministry to transform lives.
You can't tell too much about our community by reading about us, so I invite you to experience our life together. Come and see what we are all about. Come and hear the God who speaks to us and through us. Come and witness the love and compassion of a people with both a strong history and a bright future. No matter who you are or where you are on life's journey, you are welcome here! We hope you will join us and discover the extravagant love of God in doing so.

God is still speaking at ...
First Congregational Church in Auburn, MA
United Church of Christ